A strong business credit profile shows financial institutions, banks, and other businesses that your brand is economically stable. Therefore, building business credit plays a critical role in the funding ability of a company. Whether your business is a corporation or an LLC, it can establish a credit file of its own.
As a business owner, you need to have in-depth knowledge about the credit rating of the business. This includes understanding why it is important, your current business rating, and how to build business credit without using personal credit.
Just like an individual builds personal credit depending on the personal financial history, business credit is built on the financial history of the business. This includes loans, credit cards, trade lines from all the suppliers, and many other lines of credit.
While all data related to personal credit is linked to a Social Security number, your business credit is associated with the employer identification number, referred to as EIN. Just as the personal credit history shows whether or not you are trustworthy, the business's credit illustrates its reliability as a borrower.
As a business owner goes through various financial activities on behalf of the business, including opening a bank account, securing a credit card, paying the suppliers, and others – all the information is noted in the credit history. This is then reported to the credit bureaus that specifically deal with business finances.
The three main business credit reporting agencies are Equifax, Experian, and Dun & Bradstreet. Each of these companies collects information from different creditors and vendors you are doing business with, along with public records. Then, the business credit is established with the help of a credit reporting algorithm. As a result, more companies are looking to build business credit fast.
But the difference here is that contrary to the personal credit history detected by a standardized evaluation method, the business credit score can vary depending on the credit bureau. This is because every agency has its individual method of calculating credit scores.
How To Build Business Credit Fast?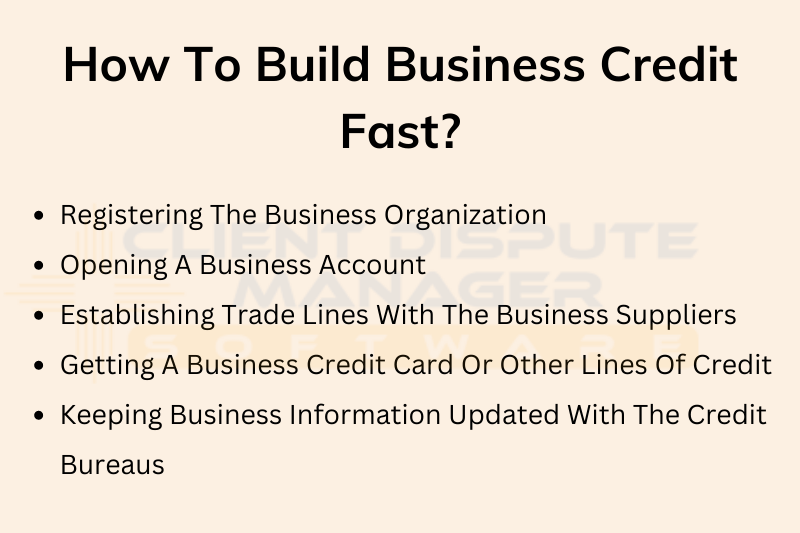 As you have started your business recently and are building business credit fast, various simple actions can help you achieve your financial goals. For instance, paying the creditors on time, mixing up several kinds of credit you are using, and not inflating the credit limit will benefit the business credit history.
So, if you are wondering how to build business credit fast, these are some effective means. But on the other hand, missed payments and outstanding balances can be detrimental to your business' credit health.
At this particular juncture, you have a clear idea about how business credit works. Now, it's crucial to find out how to build business credit without using personal credit. While it takes some time to build a credit history of the business, you should take control from the early stages to land your goals faster. Here is a step-by-step guide on the fastest way to build business credit.
Step 1: Registering The Business Organization
When considering how to build business credit without using personal credit, the first step is building business credit by keeping personal and business finances separate. To keep these finances separate, you can set your business as a registered business organization.
When starting and managing paperwork for a business, unincorporated business organizations, which include sole proprietorship or general partnerships, are the easiest to set up. Having this business structure indicates no separate distinction between the individual and business regarding legal and finances.
Suppose this is the situation with your business. In that case, you must submit your Social Security number when you attempt to apply for credit, meaning your business account activity will be included in the personal credit report.
Some of the common business structures that can help you establish your business credit are:
Limited Liability Partnership: This is a registered business entity commonly opted by professionals like doctors and lawyers.


Limited Liability Company: It is a kind of incorporated business entity with financial separation and liability protection between the individual and the business. It's easier to manage an LLC than a corporation and proffers better tax flexibility.


S-Corporation: These are pass-through business entities where the business profits are taxed on the individual. S-Corporations are also regarded as distinct legal entities.


C-Corporation: This kind of business structure gives individuals and businesses a distinct legal and financial separation. Corporations are considered separate legal entities and suitable for companies willing to issue stock in the coming time.


Step 2: Opening A Business Account
Suppose you are thinking about how to build business credit without using personal credit. In that case, an essential step is to open a separate business account. When you open this account, business credit bureaus will easily identify the amount of money going in and out of business. This information will then be reported to the credit bureaus, which is also the fastest way to build business credit.
But opening an account is not enough; you will have to use the same for business purposes when trying to build business credit fast without a personal guarantee. Make sure you have a dedicated address and contact number for your business that has no connection with you as an individual.
It will not only give a bank reference for the three major credit reporting authorities but also welcome new opportunities for honing better credit accounts for the future. The best lenders will want to do business with those having bank accounts established for many years.
Step 3: Establishing Trade Lines With The Business Suppliers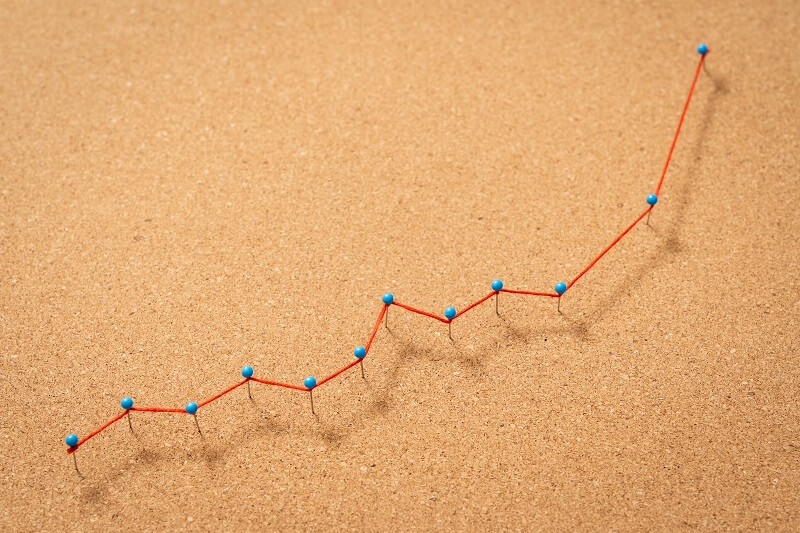 By now, you must have understood that building business credit fast is highly dependent on how brilliantly you establish business credit. And you should also establish and maintain an amicable relationship with the business suppliers and vendors.
Just as it goes with personal credit, when you build business credit, all the lenders, vendors, and suppliers will play a critical role. So, if you are thinking about how to build business credit fast, you need to maintain good terms with them.
As your business grows, you will purchase more supplies and materials from third-party suppliers, which can gradually become relationships. This will later help in building business credit. It can be extremely beneficial when they are ready to extend trade credit, allowing you to pay many days or even weeks after receiving the ordered items.
While this credit isn't a form of the traditional lending company, it works as a loan. Paying your vendor or supplier in full and on time will help procure good business credit. Before you explore this step further, it's also important to opt for suppliers who will report the payments to the credit bureaus.
Step 4: Getting A Business Credit Card Or Other Lines Of Credit
Several startups use credit lines and conventional loans to finance their operation and help grow their business. This type of credit is not only effective in helping a business run smoothly but also answers how to build business credit fast.
You should apply for a business credit card to aid in your daily purchases. It will solidify the distinction between your personal and business credit when you are wondering how to build business credit without using personal credit. Moreover, it works the same way as your personal credit card, with the only difference of having a physical card.
If you are a habitual timely payer, the simple act of borrowing and repayment of funds will aid in building business credit fast.
Step 5: Keeping Business Information Updated With The Credit Bureaus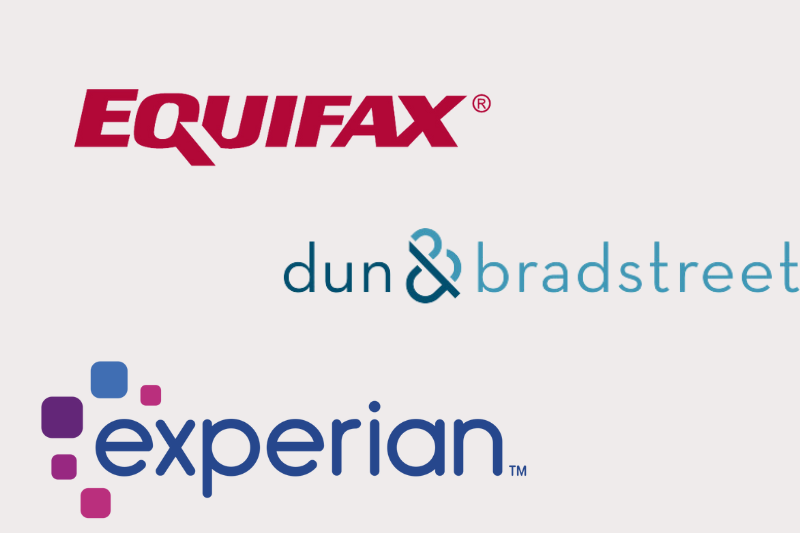 Credit bureaus collect varying information and have unique scoring models. This typically affects how you build business credit fast without a personal guarantee. Moreover, different suppliers report data that can vary from one another. Thus, you must keep an eye on all of your credit reports.
You can also update your business information and upload important financial documents. It's important to keep your profile complete and updated when trying to figure out how to build business credit fast.
Suppose you are still not using any credit reporting service regularly. In that case, you should check your business credit report at least once every three months. When you do this, it will be easier to spot any error and verify that the registered piece of information is inaccurate. This will ensure a higher rate of credit approvals in competitive interest rates.
Good business credit is an invaluable tool for the growth of the company or brand. It helps you secure good terms with suppliers and lenders. If you ever have to apply for a business loan, having a good business credit score can secure the lowest rates and largest possible loan amounts.

As a bonus, it will allow the business to qualify for the most promising credit cards, which, in turn, will make a business more credible in the long run. Thus, it's important to know how to build business credit fast.

Bonus: Now that you have read this article, why not take your new skill and start your own credit business helping others? We have free training that can help you do just that.
Click here to learn more.