A factual dispute letter is necessary if there's an error in your credit report. It's your responsibility to find and dispute any inaccurate information in your credit report. According to a Federal Trade Commission study of the credit reporting industry, it's revealed that 25 percent of consumers have reported errors in their credit reports. While some people are ignorant about the same, it can wreak havoc on your credit score.
The time of ignoring the errors in credit reports is over. Credit scores and individual credit history have made their mark in every aspect of an individual's financial well-being. Therefore, it's not only important to determine whether you are at risk of credits, but other service providers also use this information to deduce your value.
Individuals with bad credit would find it hard to rent an apartment or use the services of utility companies. Although you could be extended credit, a minimal credit score will only fetch unfavorable terms coupled with a higher interest rate. It's no secret that factual disputing can resolve inaccurate accounts that are bringing down your score to help improve it.
A Detailed Guide On Factual Disputing
As per the Fair Credit Reporting Act regulations, consumers can view individual credit scores for accuracy and opt for a factual dispute in case there's any error, outdated information, or unsubstantiated claims. The credit reporting agencies have to respond to the factual credit dispute letter.
When they fail to do this, the concerned person can proceed to lodge a complaint about the error. The Federal Consumer Financial Protection Bureau will deal with the issue this time. The bureau is bound to start with its investigation of the claim within 30 days from the date of receiving the factual dispute letter and complete it within 90 days.
Drafting The Factual Dispute Letter
Suppose you have proof that anything has been mistakenly reported to the credit bureaus. In that case, you have to prepare a factual dispute letter. Most major credit bureaus accept disputes online, and you just need to follow the online instructions.

On the other hand, a factual dispute letter is much more effective, and many people still prefer sending a physical letter rather than an online procedure. So let's take a look at the crucial steps of creating the perfect factual credit dispute letter.
Step 1: Avoiding Standard Forms And Form Letters
While using credit bureau forms or standard form letters rather than writing a factual dispute letter may be tempting, they are often vague and don't give desired results. Your objective is to be considered seriously rather than being ignored as a frivolous attempt. Moreover, you have to furnish supporting documents. When you opt for a shortcut, the online forms will not allow you to attach any such proof.
Further, a factual dispute letter written in an authentic tone and personalized voice will have a far greater impact than standard form letters. You would want to voice your frustration regarding how the issue affects you.
Step 2: Include All The Essential Details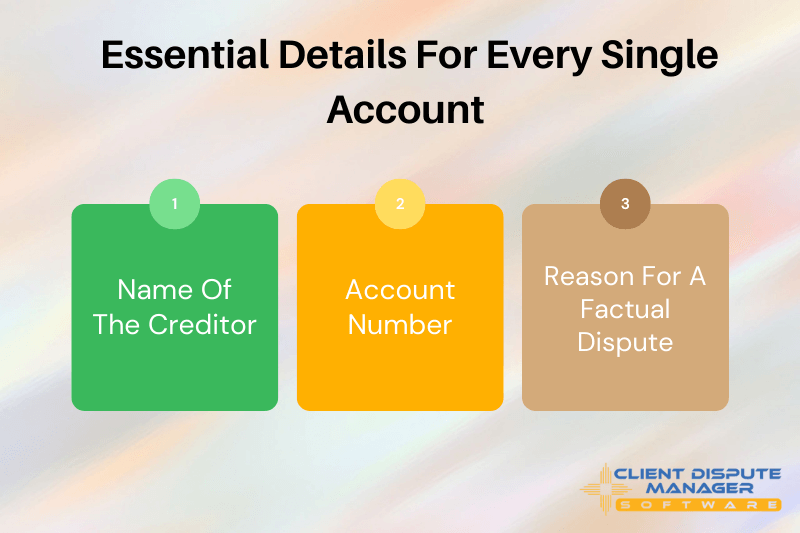 Now that you are writing a factual dispute letter, you will definitely look for any factual dispute letter sample. It will give you a clear idea about the details you need to include, such as your name, personal identification information, present address, Social Security Number, and date of birth.
List all the erroneous personal identification facts you want to dispute, along with all the questionable inquiries and accounts.
For every single account, you have to list the following:
Name of the creditor
Account number
Reason for a factual dispute
Some common reasons cited in the factual credit dispute letters include incorrect status, incorrect amount, incorrect date of last payment, the account not belonging to you, erroneous payment history, or the account belonging to someone with the same name.
If the creditor has agreed to remove the account from your credit report or if the account is very old and you don't want to keep it on your credit history, you can also mention the same as your factual disputing sample.
It's worth noting that according to the experts, you should not dispute all the reasons in a single letter. If it fails to work the first time, you will have the scope to draft a factual credit dispute letter the second time.
Step 3: Being Mindful Of The Items To Be Enclosed With The Factual Dispute Letter
The credit bureaus would want verification of your identity to proceed with the investigation and send back dispute results. The documents you need to attach with your factual dispute letter include the following:
Photo ID: It may be authorized by any state; any identification issued by the government.


Proof of SSN: Again, it can be any government-authorized document displaying the SSN. Alternatively, you may furnish your tax return, 1099, W-2, or pay stub.


Supporting Documents: It might include any pertinent document that further supports your factual disputing, such as a letter of deletion issued by the creditor.


Step 4: Be Professional When Writing Your Factual Credit Dispute Letter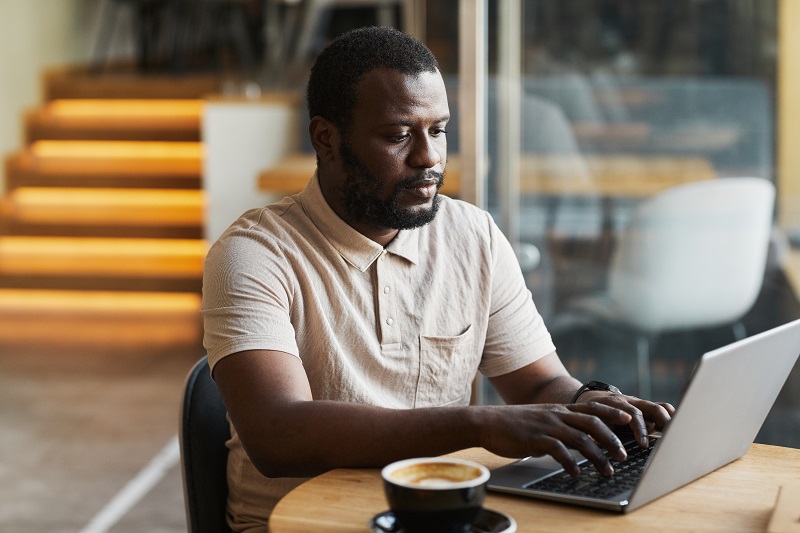 You should steer clear from making any empty threat when factual disputing. Some people tend to include every single FCRA violation in their appeal. You may save such expertise for dealing with the creditor directly or when filing a lawsuit.
You must realize that credit bureau employees are constantly working and take the necessary actions within a stipulated time. The last thing that will impress them is you being a know-it-all and rude. Therefore, you should include documents and evidence available at your disposal. They might be needed in case you have to file a lawsuit to prove that the concerned bureau is not taking necessary actions.
You will never come across a factual dispute example bombarded with over 6/7 derogatory listings in a single letter. Some people prefer sending a blanket factual dispute letter for all erroneous listings. At times, it is highly effective and may even work.
The credit bureau's job is to look for reasons with which they can avert investigation. Thus, you have to allow a period of 30 to 60 days between your dispute letters.
Step 5: Request For Removal Of Negative Items And Late Payments
When writing a factual credit dispute letter, make sure you request deletions. You must state clearly what you exactly want the credit bureaus to do. Everything, ranging from Repossession, Charge-offs, Public Records, Collection Accounts, and Foreclosures, would only have any meaning when you ask for deletions.
If you have errors or inaccuracies in any of these accounts, there's no chance of your credit score improving unless you have them removed. Instead, it will still be regarded as a negative listing eventhough you know they are inaccurate as long as they are on the report. Though it doesn't guarantee that the credit bureau will always accept your request, it is benificial to ask them what you want to happen.
It's important to mention an exception to this. If you challenge a late payment, depending on the fact that you can never be late could lead to the conversion of the account to a positive status. The credit bureau will immediately get in touch with the concerned creditor and request a verification. If the creditor fails to furnish any evidence of late payment, it will receive a positive status. And the last thing you will want is to have a positive account deleted.
A Paper Trail Is Your Best Bet
Besides following these essential strategies for drafting a factual dispute letter, consumer law attorneys suggest sending a written complaint. Sometimes, the online factual dispute form comes with arbitration clauses.
When you click them, you lose your right to sue the credit bureau even when they repeatedly verify their errors as correct. In such a case, you must file a lawsuit to resolve the issue and furnish the records of your efforts before the honorable court.
Also, you should check the official mailing address of the concerned credit bureaus because sometimes they change their addresses. Depending on where you live, you may even come across several mailing addresses.
A factual dispute letter is not the only hope you are left with for filing an error. You may also file the same with each bureau online or over the phone. While submitting the factual credit dispute letter is the most convenient and effective, it ultimately boils down to individual choice.
It's worth noting that all errors are not created equal. And you have to be absolutely specific and provide evidence for your factual disputing. Since the credit bureaus have to deal with umpteen factual disputes, chances are, without any proof, your dispute might be denied.
In the worst scenario, the factual error can even get reported again if you fail to convince the creditor who has reported the error. Following the step-by-step guide can help you draft an effective factual dispute letter sample and get errors rectified without bringing down your credit scores. Check your credit score today and find out if anything is amiss with the report.
Bonus: Now that you have read this article, why not take your new skill and start your own credit business helping others? We have free training that can help you do just that.
Click here to learn more.